Zend_Db_Table_Row Object ( [_data:protected] => Array ( [category_hidden] => 0 [id_category] => 49 [id_parent] => 23 [category_display_order] => 20 [date_added] => 2007-05-14 10:28:48 [last_updated] => 2023-01-09 05:35:01 [category_thumb] => 4df9001279.jpg [category_image] => hp_mono_printers.jpg [category_banner_image] => [category_name] => HP Mono Printers [category_safename] => HP-Mono-Printers [category_meta_title] => Reconditioned HP Mono Printers [category_meta_keywords] => HP reconditioned printer, Hp printer, Hp used printer, used printer, reconditioned printer, hp, printer, laser, reconditioned, refurbished, printers, all in one, multifunction, hewlett packard, mono, monochrome, black [category_meta_description] => Buy high quality, cost-friendly HP Printers from our reconditioned range at RefurbExperts. Get HP quality at a fraction of the price. Free shipping available. [profit_default] => 100.00 ) [_cleanData:protected] => Array ( [category_hidden] => 0 [id_category] => 49 [id_parent] => 23 [category_display_order] => 20 [date_added] => 2007-05-14 10:28:48 [last_updated] => 2023-01-09 05:35:01 [category_thumb] => 4df9001279.jpg [category_image] => hp_mono_printers.jpg [category_banner_image] => [category_name] => HP Mono Printers [category_safename] => HP-Mono-Printers [category_meta_title] => Reconditioned HP Mono Printers [category_meta_keywords] => HP reconditioned printer, Hp printer, Hp used printer, used printer, reconditioned printer, hp, printer, laser, reconditioned, refurbished, printers, all in one, multifunction, hewlett packard, mono, monochrome, black [category_meta_description] => Buy high quality, cost-friendly HP Printers from our reconditioned range at RefurbExperts. Get HP quality at a fraction of the price. Free shipping available. [profit_default] => 100.00 ) [_modifiedFields:protected] => Array ( [category_name] => 1 ) [_table:protected] => ProductCategory Object ( [_primary:protected] => Array ( [1] => id_category ) [_name:protected] => products_categories [adminMode:ProductCategory:private] => [_definition:protected] => [_definitionConfigName:protected] => [_db:protected] => Zend_Db_Adapter_Pdo_Mysql Object ( [_pdoType:protected] => mysql [_numericDataTypes:protected] => Array ( [0] => 0 [1] => 1 [2] => 2 [INT] => 0 [INTEGER] => 0 [MEDIUMINT] => 0 [SMALLINT] => 0 [TINYINT] => 0 [BIGINT] => 1 [SERIAL] => 1 [DEC] => 2 [DECIMAL] => 2 [DOUBLE] => 2 [DOUBLE PRECISION] => 2 [FIXED] => 2 [FLOAT] => 2 ) [_defaultStmtClass:protected] => Zend_Db_Statement_Pdo [_config:protected] => Array ( [type] => pdo_mysql [host] => localhost [username] => refurbexpertscom [password] => h$O2;kW)F,e#rPg [dbname] => refurbexpertscom [charset] => [persistent] => [options] => Array ( [caseFolding] => 0 [autoQuoteIdentifiers] => 1 [fetchMode] => 2 ) [driver_options] => Array ( ) ) [_fetchMode:protected] => 5 [_profiler:protected] => Zend_Db_Profiler Object ( [_queryProfiles:protected] => Array ( ) [_enabled:protected] => [_filterElapsedSecs:protected] => [_filterTypes:protected] => ) [_defaultProfilerClass:protected] => Zend_Db_Profiler [_connection:protected] => PDO Object ( ) [_caseFolding:protected] => 0 [_autoQuoteIdentifiers:protected] => 1 [_allowSerialization:protected] => 1 [_autoReconnectOnUnserialize:protected] => ) [_schema:protected] => [_cols:protected] => Array ( [0] => category_hidden [1] => id_category [2] => id_parent [3] => category_display_order [4] => date_added [5] => last_updated [6] => category_thumb [7] => category_image [8] => category_banner_image [9] => category_name [10] => category_safename [11] => category_meta_title [12] => category_meta_keywords [13] => category_meta_description [14] => profit_default ) [_identity:protected] => 1 [_sequence:protected] => 1 [_metadata:protected] => Array ( [category_hidden] => Array ( [SCHEMA_NAME] => [TABLE_NAME] => products_categories [COLUMN_NAME] => category_hidden [COLUMN_POSITION] => 1 [DATA_TYPE] => tinyint [DEFAULT] => 0 [NULLABLE] => [LENGTH] => [SCALE] => [PRECISION] => [UNSIGNED] => 1 [PRIMARY] => [PRIMARY_POSITION] => [IDENTITY] => ) [id_category] => Array ( [SCHEMA_NAME] => [TABLE_NAME] => products_categories [COLUMN_NAME] => id_category [COLUMN_POSITION] => 2 [DATA_TYPE] => smallint [DEFAULT] => [NULLABLE] => [LENGTH] => [SCALE] => [PRECISION] => [UNSIGNED] => 1 [PRIMARY] => 1 [PRIMARY_POSITION] => 1 [IDENTITY] => 1 ) [id_parent] => Array ( [SCHEMA_NAME] => [TABLE_NAME] => products_categories [COLUMN_NAME] => id_parent [COLUMN_POSITION] => 3 [DATA_TYPE] => smallint [DEFAULT] => 0 [NULLABLE] => [LENGTH] => [SCALE] => [PRECISION] => [UNSIGNED] => 1 [PRIMARY] => [PRIMARY_POSITION] => [IDENTITY] => ) [category_display_order] => Array ( [SCHEMA_NAME] => [TABLE_NAME] => products_categories [COLUMN_NAME] => category_display_order [COLUMN_POSITION] => 4 [DATA_TYPE] => smallint [DEFAULT] => 0 [NULLABLE] => [LENGTH] => [SCALE] => [PRECISION] => [UNSIGNED] => 1 [PRIMARY] => [PRIMARY_POSITION] => [IDENTITY] => ) [date_added] => Array ( [SCHEMA_NAME] => [TABLE_NAME] => products_categories [COLUMN_NAME] => date_added [COLUMN_POSITION] => 5 [DATA_TYPE] => datetime [DEFAULT] => [NULLABLE] => [LENGTH] => [SCALE] => [PRECISION] => [UNSIGNED] => [PRIMARY] => [PRIMARY_POSITION] => [IDENTITY] => ) [last_updated] => Array ( [SCHEMA_NAME] => [TABLE_NAME] => products_categories [COLUMN_NAME] => last_updated [COLUMN_POSITION] => 6 [DATA_TYPE] => datetime [DEFAULT] => [NULLABLE] => [LENGTH] => [SCALE] => [PRECISION] => [UNSIGNED] => [PRIMARY] => [PRIMARY_POSITION] => [IDENTITY] => ) [category_thumb] => Array ( [SCHEMA_NAME] => [TABLE_NAME] => products_categories [COLUMN_NAME] => category_thumb [COLUMN_POSITION] => 7 [DATA_TYPE] => varchar [DEFAULT] => [NULLABLE] => [LENGTH] => 14 [SCALE] => [PRECISION] => [UNSIGNED] => [PRIMARY] => [PRIMARY_POSITION] => [IDENTITY] => ) [category_image] => Array ( [SCHEMA_NAME] => [TABLE_NAME] => products_categories [COLUMN_NAME] => category_image [COLUMN_POSITION] => 8 [DATA_TYPE] => varchar [DEFAULT] => [NULLABLE] => [LENGTH] => 128 [SCALE] => [PRECISION] => [UNSIGNED] => [PRIMARY] => [PRIMARY_POSITION] => [IDENTITY] => ) [category_banner_image] => Array ( [SCHEMA_NAME] => [TABLE_NAME] => products_categories [COLUMN_NAME] => category_banner_image [COLUMN_POSITION] => 9 [DATA_TYPE] => varchar [DEFAULT] => [NULLABLE] => [LENGTH] => 128 [SCALE] => [PRECISION] => [UNSIGNED] => [PRIMARY] => [PRIMARY_POSITION] => [IDENTITY] => ) [category_name] => Array ( [SCHEMA_NAME] => [TABLE_NAME] => products_categories [COLUMN_NAME] => category_name [COLUMN_POSITION] => 10 [DATA_TYPE] => varchar [DEFAULT] => [NULLABLE] => [LENGTH] => 128 [SCALE] => [PRECISION] => [UNSIGNED] => [PRIMARY] => [PRIMARY_POSITION] => [IDENTITY] => ) [category_safename] => Array ( [SCHEMA_NAME] => [TABLE_NAME] => products_categories [COLUMN_NAME] => category_safename [COLUMN_POSITION] => 11 [DATA_TYPE] => varchar [DEFAULT] => [NULLABLE] => [LENGTH] => 255 [SCALE] => [PRECISION] => [UNSIGNED] => [PRIMARY] => [PRIMARY_POSITION] => [IDENTITY] => ) [category_meta_title] => Array ( [SCHEMA_NAME] => [TABLE_NAME] => products_categories [COLUMN_NAME] => category_meta_title [COLUMN_POSITION] => 12 [DATA_TYPE] => varchar [DEFAULT] => [NULLABLE] => [LENGTH] => 255 [SCALE] => [PRECISION] => [UNSIGNED] => [PRIMARY] => [PRIMARY_POSITION] => [IDENTITY] => ) [category_meta_keywords] => Array ( [SCHEMA_NAME] => [TABLE_NAME] => products_categories [COLUMN_NAME] => category_meta_keywords [COLUMN_POSITION] => 13 [DATA_TYPE] => varchar [DEFAULT] => [NULLABLE] => [LENGTH] => 255 [SCALE] => [PRECISION] => [UNSIGNED] => [PRIMARY] => [PRIMARY_POSITION] => [IDENTITY] => ) [category_meta_description] => Array ( [SCHEMA_NAME] => [TABLE_NAME] => products_categories [COLUMN_NAME] => category_meta_description [COLUMN_POSITION] => 14 [DATA_TYPE] => varchar [DEFAULT] => [NULLABLE] => [LENGTH] => 255 [SCALE] => [PRECISION] => [UNSIGNED] => [PRIMARY] => [PRIMARY_POSITION] => [IDENTITY] => ) [profit_default] => Array ( [SCHEMA_NAME] => [TABLE_NAME] => products_categories [COLUMN_NAME] => profit_default [COLUMN_POSITION] => 15 [DATA_TYPE] => decimal [DEFAULT] => 0.00 [NULLABLE] => [LENGTH] => [SCALE] => 2 [PRECISION] => 7 [UNSIGNED] => 1 [PRIMARY] => [PRIMARY_POSITION] => [IDENTITY] => ) ) [_metadataCache:protected] => [_metadataCacheInClass:protected] => 1 [_rowClass:protected] => Zend_Db_Table_Row [_rowsetClass:protected] => Zend_Db_Table_Rowset [_referenceMap:protected] => Array ( ) [_dependentTables:protected] => Array ( ) [_defaultSource:protected] => defaultNone [_defaultValues:protected] => Array ( ) ) [_connected:protected] => 1 [_readOnly:protected] => [_tableClass:protected] => ProductCategory [_primary:protected] => Array ( [1] => id_category ) )
*** ALL TONERS AND SUPPLIES ARE IN STOCK AT DISCOUNTED PRICING , CALL 877-389-9763
Related Products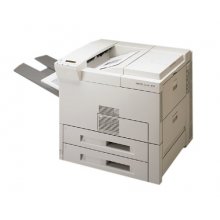 HP LaserJet 8150 Laser Printer RECONDITIONED
Call for price
Product Details
Specs
Accessories
Reviews
Main Features
Get your work done fast at 45 ppm.

And get prints that look great - crisp, clear printing at 1200 dpi at full speed.

It handles the paper for you, so you don't have to. With numerous paper handling accessories, this printer can be customized for any office.

The HP LaserJet 4300 printer provides office workgroups a simple, worry-free means to get their business documents on page.
General Specifications
Specifications
Print speed
Up to 45 ppm
Print resolution
1200 dpi
Paper Handling Support
Envelopes, Labels, Paper (Standard Cut Sheet), Transparencies
Max Sheet Capacity
2600
Printer Type
Monochrome Laser
Paper capacity
600 sheets
Interface Type
Parallel - 25 pin D-shell (IEEE 1284A)
optional Network Card
Ethernet (10/100 Mbps)
Installed Memory
64 MB
Printer Language(s) Supported
HP GL/2, HP PCL 5e, HP PCL 6