Related Products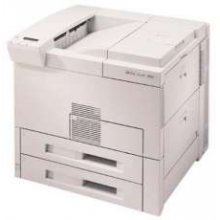 HP LaserJet 8100 Laser Printer RECONDITIONED
Call for price
Product Details
Specs
Accessories
Reviews
Overview
HP LaserJet 9000 offers 600 dpi x 600 dpi, A3, Parallel
The HP LaserJet 9000 series printer is HP's fastest, most versatile LaserJet designed for today's distributed work environments. The robust design provides a reliable, high-volume printing system capable of supporting the most demanding general office and high-volume transaction printing environments.
The HP Laserjet 9000 has Advanced network connectivity and scalable remote management reduce overall cost of ownership and increase printer uptime. Integrated software and solutions from HP and partners offer connectivity and compatibility for printing in more environments to accomplish true distributed printing.
All our reconditioned printers are clean, tested and working.
General Specifications
Specifications of the HP LaserJet 9000
Print Speed
Black 50 ppm
Resolution
600 x 600 dpi, 1200 fast Res
Print Languages for the HP LaserJet 9000
Std. HP printer command language (PCL) 6, HP PCL 5e, printer job language (PJL), printer management language (PML), PostScript® Level 3 emulation
Automatic Language Switching
Yes
Monthly Volume
300,000
Paper Trays
Std/Max 2/4
Input Capacity
Std/Max 1000 sheets/3,100 sheets
Output Capacity
600 sheets standard/3,600 sheets maximum
Envelope Input
Std 10
Media Sizes Standard for the HP LaserJet 9000
letter, legal, executive, tabloid (International: A4, B4, B5, A3, A5)
Custom
3.9 x 7.5 in to 11.7 x 17 in (metric: 99 x 191 mm to 297 x 432 mm)
Media Types
Paper (plain, preprinted, letterhead, prepunched, bond, color, recycled, rough), transparencies, labels, card stock, user- defined (five types)
Media Weights
16 lb to 58 lb bond
Duplex Printing
Optional
Memory
Std/Max 64 MB/384 MB, MEt
Memory Slots
3 100-pin DIMM sockets
Connectivity
Std. 9000: IEEE 1284-compliant parallel interface, 3 open EIO slots
Model
C8519A - HP LaserJet 9000
HP LaserJet 9000 Laser Printer RECONDITIONED 5 / 5 based on 1 ratings (Last review by Peter on )





HP LaserJet 9000 Laser Printer RECONDITIONED 5 / 5 Its a little bulky, but a great bargain - by Peter ()
Please log in or create an account in order to write a review.